Free & Easy Checking
It's in the name.
Sometimes it's best to keep things simple. That's where our Free & Easy Checking1 account comes in. It gives you all the benefits you need, without any of the hassle you don't. Because when you bank free and easy, you can live that way, too.
The Perks
Unlimited ATM Rebates
We know you'll probably have to use another bank's ATM now and then. No sweat—we'll cover the fees.
24/7 Online and Mobile Banking
That includes free mobile deposit and free bill pay, so you can bank anytime the mood strikes.
And No Monthly Fees, Ever
We said free, not fees. We believe in keeping you in the loop about those.
Minimum deposit of $25 required to open account. ATM rebates are applied at end of monthly statement cycle. To qualify for ATM rebates, you must have online statements and monthly direct deposit. A direct deposit is a recurring deposit of a paycheck, pension, Social Security, or other regular monthly income, electronically deposited by an employer or outside agency into your account. $50 opening deposit to receive Debit Card.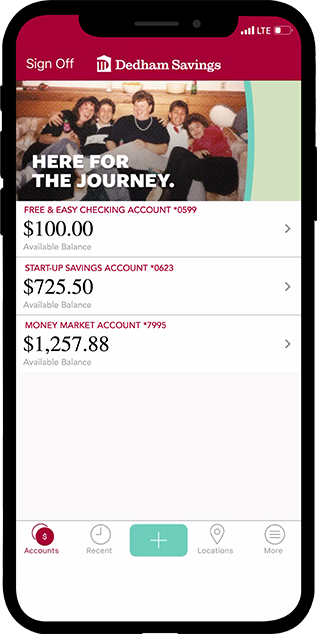 Mobile App
Bank anywhere, anytime, and any way you want.
To start using Mobile Banking, be sure to sign up for Online Banking first.
Now you can deposit checks in a snap. Literally. Just take a picture.
With Zelle®, you can easily send money in minutes to your friends and family, straight from your Checking account in the Dedham Savings mobile app. It doesn't even matter where they bank.
Use this free service in Online Banking & Mobile Banking to view all your accounts in one location, create budgets, manage spending, set goals, and more.
Get instant access to your credit score, credit report, and credit monitoring.
With Debit Card Controls, you control when, where, and how your Debit Card can be used.
I'm ready to open an account!
We're so glad you'll be joining the family. We're here for your journey, and we can't wait to support you along the way.
I'm not sure yet.
That's okay. Take a look at our other account options. If you've got questions, just remember — we're here with answers.
Start Up Savings
Designed for first-time savers, this account helps you save faster. Way faster. At 5.00% APY*, you'll reach those goals before you know it.
Credit Card
It's great to have options, especially when it comes to credit cards. Whether you're looking to build credit or earn rewards, we'll help you find a card that does the trick.