Start Up Savings
What are you saving for?
Whether it's an emergency fund, a car down payment, or even a vacation, we want to help you get there faster. Way faster. With a top rate like our Start Up Savings1 offers, you'll be saving without even thinking about it.
The Perks
5.00% APY1
Yep. That's an interest rate you can get behind. Reach your goals faster with big returns on balances up to $1,000.
Perfect for First-Time Savers
You'll start earning our highest rate on the very first dollar you deposit. That makes this account a great way to start your saving off right.
An Account for Saving, Not Spending
We want to help you build savings fast, so you're free to make deposits anytime with this account. Although you won't get an ATM card, you'll get quick access to your money if you transfer to another account.
Great Way to Save for an Emergency Fund
Be prepared for whatever life throws your way with this easy way to start and grow an emergency fund.
APY (Annual Percentage Yield) accurate as of 9/30/23. Minimum deposit of $25 required to open account. Must be opened with funds not currently on deposit at Dedham Savings. 5.00% APY for balances of $0 to $1,000. 0.05% APY for balances over $1,000. Rates guaranteed until 12/31/23, and subject to change thereafter. Online statements required within 30 days of account opening, or account will revert to standard Statement Savings account at 0.05% APY for all balances. One account per customer. Limited time offer. Fees may reduce earnings. Deposits are insured up to current FDIC (Federal Deposit Insurance Corporation) limits and by the DIF (Depositors Insurance Fund) for all additional balances, up to any amount.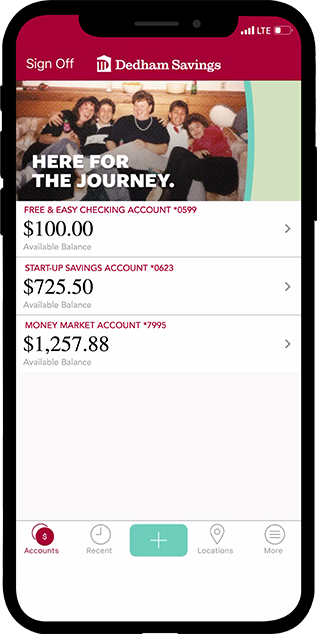 Mobile App
Bank anywhere, anytime, and any way you want.
To start using Mobile Banking, be sure to sign up for Online Banking first.
Now you can deposit checks in a snap. Literally. Just take a picture.
With Zelle®, you can easily send money in minutes to your friends and family, straight from your Checking account in the Dedham Savings mobile app. It doesn't even matter where they bank.
Use this free service in Online Banking & Mobile Banking to view all your accounts in one location, create budgets, manage spending, set goals, and more.
Get instant access to your credit score, credit report, and credit monitoring.
With Debit Card Controls, you control when, where, and how your Debit Card can be used.
I'm ready to open an account!
We're so glad you'll be joining the family. We're here for your journey, and we can't wait to support you along the way.
I'm not sure yet.
That's okay. Take a look at our other account options. If you've got questions, just remember — we're here with answers.
Free & Easy Checking
Keep things simple with unlimited ATM rebates, 24/7 online and mobile banking, and no monthly fees. Get all the benefits you need, without any of the hassle you don't.
Certificate of Deposit
Choose the length of your CD term (anywhere from 3 months to 5 years) and enjoy our top interest rates the whole time.